Be Prepared
People in Oregon were working on adjusting their lives to autumn and a return to school during the COVID-19 pandemic when they were suddenly confronted with dangerous wildfires, evacuations and hazardous smoke. While so many folks are still having to adjust their lives after being impacted by the wildfires, it may seem like too much to think about preparedness for future emergencies at this time. Even so, keeping track of what you are missing in your preparedness kit right now while it's fresh on your mind may really help you in the future.
There are many low-to-no cost actions you can do today that will help you in the event of a disaster or emergency, including measures everyone can take during the ongoing COVID-19 pandemic. You can limit the impacts that disasters have on you and your family by taking steps to:
Know what disasters and hazards could affect your area and learn what to do before, during and after each type of emergency.
Have important documents lined up, from insurance coverage to health/medical records.
Learn how to make your home more prepared for emergencies, both structurally and non-structurally.
Sign up for emergency alerts so that during a disaster or emergency, you receive immediate life-saving information from your state and local municipality and are prepared to act fast.
Ensure your home has the right types of insurance coverage based on where you live. Consider purchasing homeowners, renters, health, life and/or flood insurance to protect yourself and your property.
Oregon Office of Emergency Management (OEM) has a webpage that can help you prepare for future emergencies.
(Article from September 28, 2020, Oregon Health Authority Coronavirus Update.)
Blachly-Lane Monthly Board Meeting
Tuesday, November 24, 2020 1:00 PM
Agenda and Information for Members to Attend
***
Member Assistance During Covid-19
Blachly-Lane Electric Co-op is owned by its 2,835 members and very different from the big utilities who need one-size-fits-all solutions in times of community crisis. We will customize our support to members in need during this COVID-19 event. When members experience economic stress, we work with them to make case-by-case payment arrangements. If you find yourself unable to pay your bill, it is important to call us at 541-688-8711 and we will work together. We are committed to assist our members in ways that help now and will keep them from owing a big bill they cannot pay later.
***
NOTICE OF FAILURE TO CLAIM
CASH RETIREMENTS OF CAPITAL CREDITS
OF BLACHLY-LANE COUNTY COOPERATIVE ELECTRIC ASSOCIATION
It's Your Money, and We Want You to Have It!
The LIST OF FORFEITURES may be accessed here or call us at the numbers below for a list of former members of Blachly-Lane Electric Cooperative to whom capital credit checks were issued in 2017 for patronage earned in 2004 & 2005. These checks have not cleared the bank and will be forfeited by the member if not claimed by APRIL 30, 2021 If one of these checks is yours, or if you are legally authorized to claim one of these checks, please contact our office between 8 a.m. – 5:30 p.m. Monday through Thursday at 541-688-8711 or 1-800-446-8418. You may also contact us by email at blec@blec.coop. Please provide your name and a daytime telephone number and a staff representative will contact you.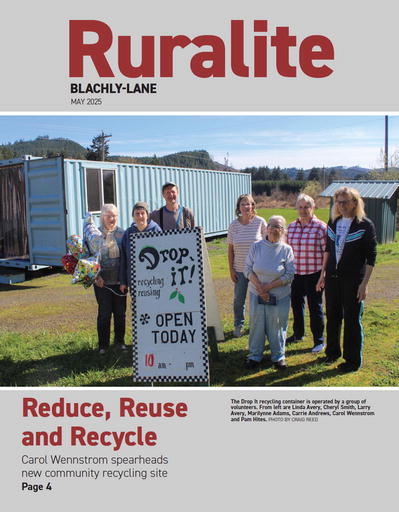 Mission Statement
Blachly-Lane provides safe, reliable electric services for our consumer-members.